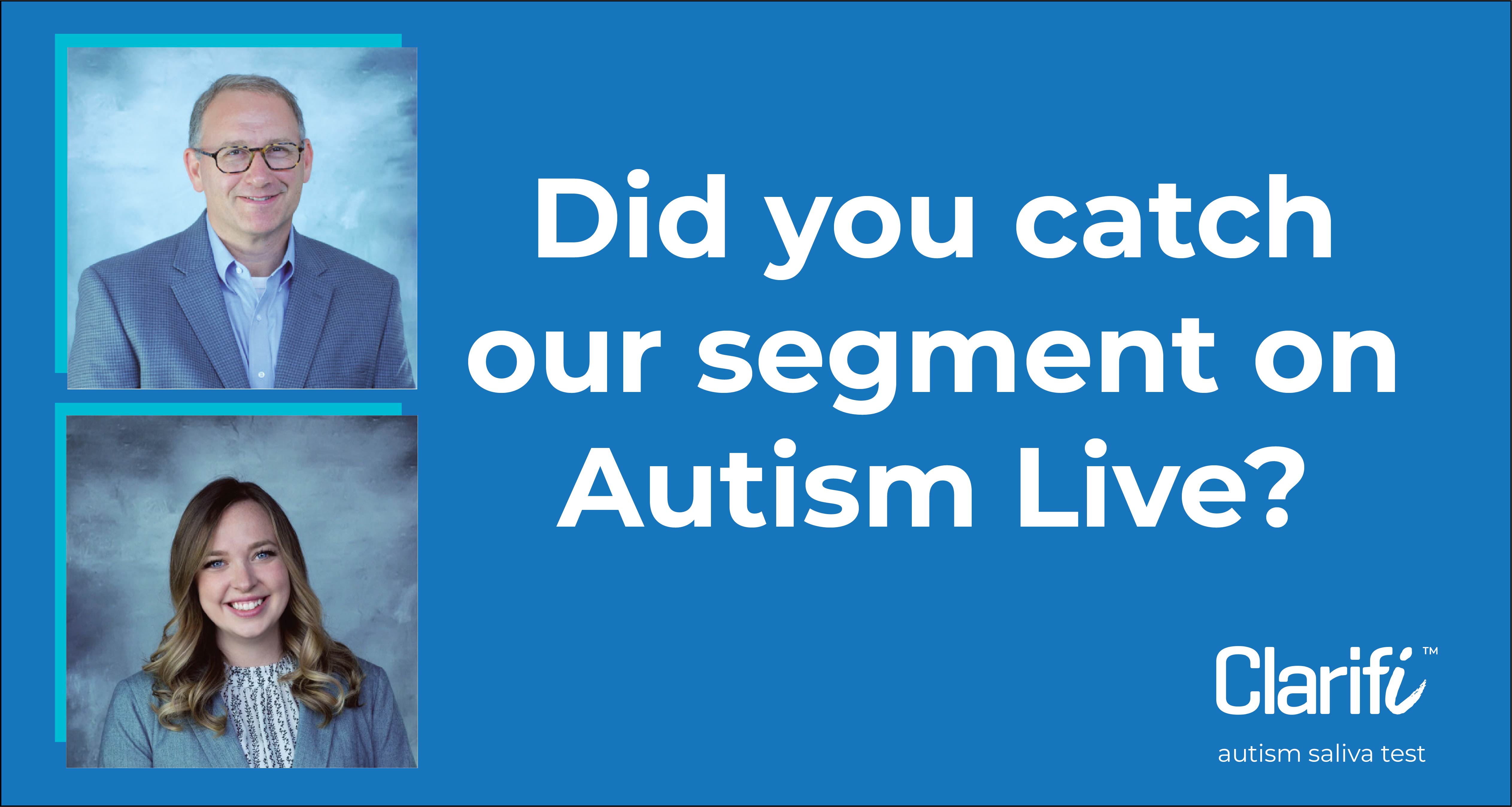 Last week we had the great privilege of being invited back to be interviewed
Autism Live.
During the webshow, we were able to discuss the recent launch of our autism saliva test, Clarifi ASD (some of you may recall our segment on the show last spring).
Autism Live is an interactive web show hosted by Shannon Penrod, who is not only a mother of a child with autism, but also an award winning stand-up comedienne, director, and author. Her show provides "support, resources, information, and facts," for the autism community.
Here are some of the highlights. To watch the full interview click here!
Clarifi Test Kits Are on the Shelves
"When we first had you guys on the show, we were talking about all the possibilities of this being a reality. And since you've been with us, you've launched and you are in over 100 clinics now," Shannon began.
That's right! In only a few months, Clarifi ASD kits are now available in 28 states across the US. Want to find out if it's in a clinic near you? Contact us!
Autism Advocates Can Help Shape the Future
We believe our epigenetic diagnostic pipeline can help change the trajectory of millions of lives. But it's exciting when advocates in the community voice their support too. At the end of our segment, Shannon encouraged her viewers to spread the news about Clarifi ASD.
"Here's what I want to say to our viewers that are watching. Most of you are people who already have a diagnosis, either for yourself or for your kiddos. But you may have a second child that you're concerned about. Or, you are the autism community and you have your ear to the ground and people are calling you, I know, on a daily basis and saying "I need to get my kid diagnosed, what do I do?"
"And we all know the hoops we had to jump through to do this."
"So this is something that you now have in your arsenal that you can say to friends and family who call you and say "I don't know what to do." You can say go to your clinic, and request this."
Thank you again to Autism Live for the wonderful opportunity to chat about our product.
If you have any questions, don't hesitate to reach out! A member of the Clarifi Team will be happy to help.
To watch the full segment, click here.